Starburst Slot: Play the Starburst Slot Online at PokerStars

Welcome to probably the most popular online Slot in the world!
Launched a long time ago in a galaxy far, far away (well, in this galaxy in 2012), Starburst is a fantastic game that boasts hundreds of thousands of loyal fans from all over the planet.
With this game, NetEnt brought to the world of online Slots an ultra-modern updated the classic Slots theme and structure.
Starburst still features all the bars and sevens symbols that fans of vintage Slots know and love, but launched them into a slick and modern online video Slots package – and then they took it to a whole new level.
Cosmic backgrounds, bright graphics, and an epic interstellar score are just a few of the elements that make Starburst a truly unique Slot.
Sound fun? Well you can play the Starburst Slot right here at PokerStars Casino. In fact, it's often the most popular game featured on our platform and can be played on both desktop and mobile
Starburst Slot Machine Gameplay
Here is Starburst as a Slot in three words: pure and simple. 
Simplicity is key to the success of the worldwide popularity of this legendary game. Despite its futuristic, sci-fi stylings, the mechanics of Starburst are based pretty heavily on classic one-armed bandit fruit Slots. That means that Starburst is a very simple game that is extremely easy to learn.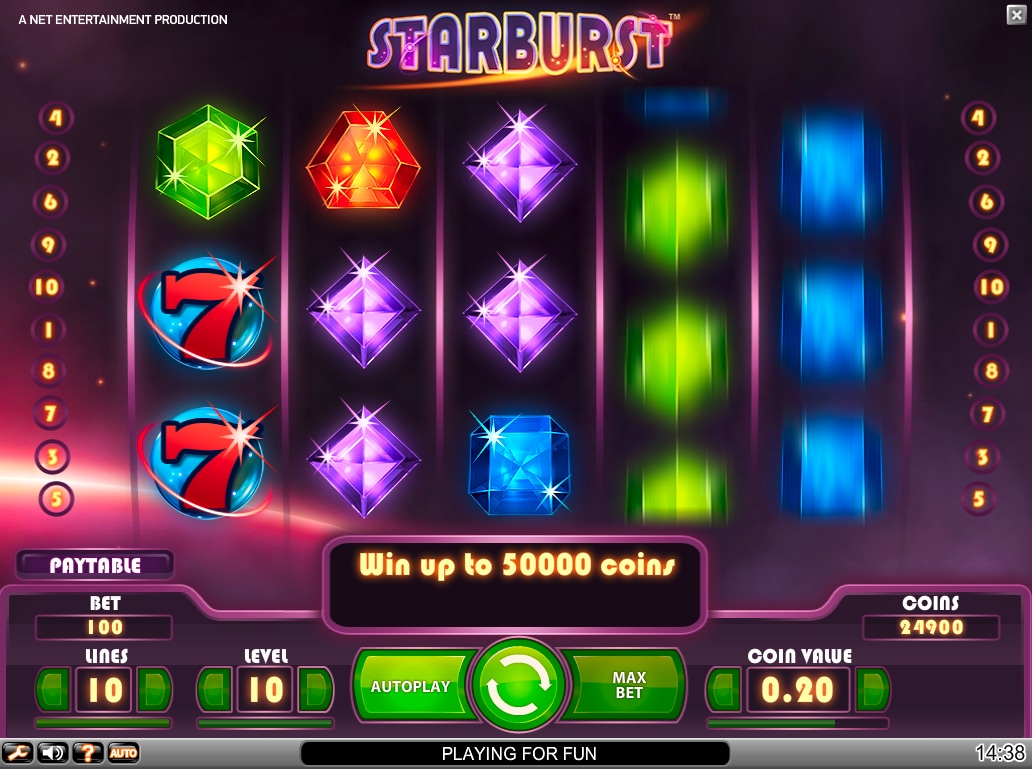 Keeping things simple from the get-go, Starburst features just 10 paylines across its five reels. While the number of paylines you play on each spin is fixed, you can decide how much to wager by adjusting the Bet Level and the Coin Value via the user-friendly interface – it's a game to suit all bankrolls. 
As you might guess, the fact that Starburst has one of the lower minimum bets you will find in the world of fixed-payline online Slots is also one of the reasons why it is so popular. 
While Starburst is undoubtedly one of the most-played Slot machines by beginners and small-stakes Slots fans, there are a fair few high rollers who enjoy a spin on Starburst as well!
Since at its core Starburst is a classic Slots game, the symbols will be pretty familiar to mot players: sevens and bars are joined on the reels by red, yellow, blue, and purple Gems – all connected to different pay-outs. 
An immersive interstellar soundtrack, accompanied by some of the highest quality graphics found in the world of online Slots, is part of what makes Starburst a truly one-of-a-kind Slot machine. 
Starburst appeals to Slots veterans and online casino rookies alike. That is something that very few modern online Slots can boast.
Exclusive Features
Despite the simplicity of this game, Starburst has a couple of fantastic bonus features that really elevate its status in the world of online Slots. 
First things first, the biggest and best feature that players love most: the Starburst Wilds bonus feature. The distinctive Starburst Wild is more than just your standard wild symbol and gives this Slot's gameplay a unique twist, building the excitement of playing this game into a thrilling crescendo. 
To kick off the feature, all you need to do is land a Starburst Wild on one of the three central reels. Like a regular wild symbol, this will substitute for all other symbols in payline wins. However, it packs an extra punch. 
Once you land a Starburst Wild on reels two, three or four, the Starburst Wild symbol will expand across the whole reel to cover each of the 10 paylines, triggering up to five free spins – with the expanded Starburst Wild remaining in place for every spin! 
Sounds good, right? It gets better. Each and every time you are lucky enough to land additional Starburst wild symbols during any of your free spins, it too remains locked in place alongside the original full-reel Starburst wild for up to three additional spins. This bonus feature is as exciting to play as it is to anticipate, and can lead to some very satisfying wins. 
In addition, Starburst comes with stacked symbols. In other words, up to three symbols can appear stacked on top of one another on each reel at any one time. This can happen on all five reels, which really increases the chances of a big win as the matching symbols cross multiple paylines. 
Despite having only 10 paylines, Starburst comes with the Win Both Ways feature as standard. This means that you can line up winning payline combinations from left to right as usual – but also from right to left. 
You don't need to be a mathematics expert to know that means a big increase in the number of winning combinations you can hit.
How Much Can You Win?
The game's top combination in regular play is a five-of-a-kind with the Bar symbols, and gives a single-line win of 250 coins. Wins start from a minimum of five coins with three blue or purple gems.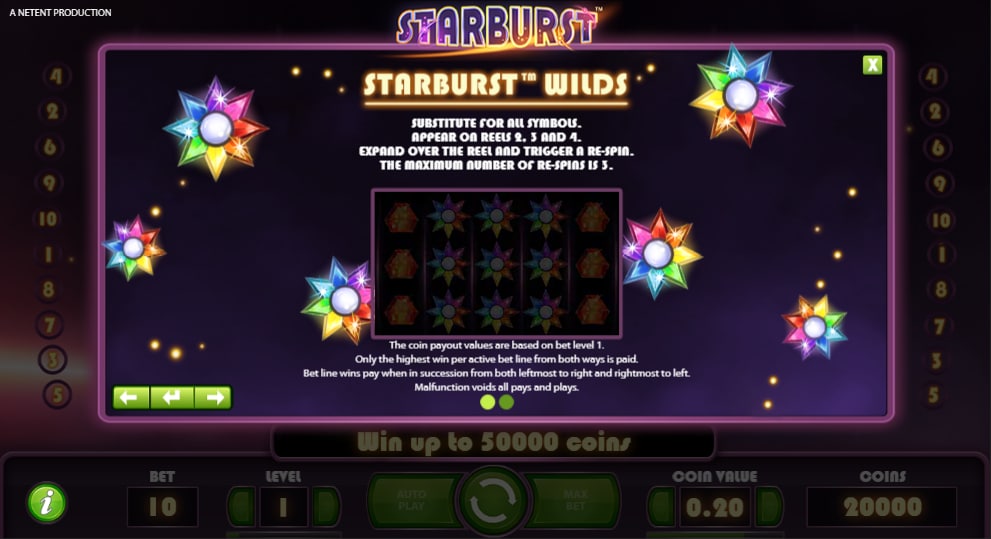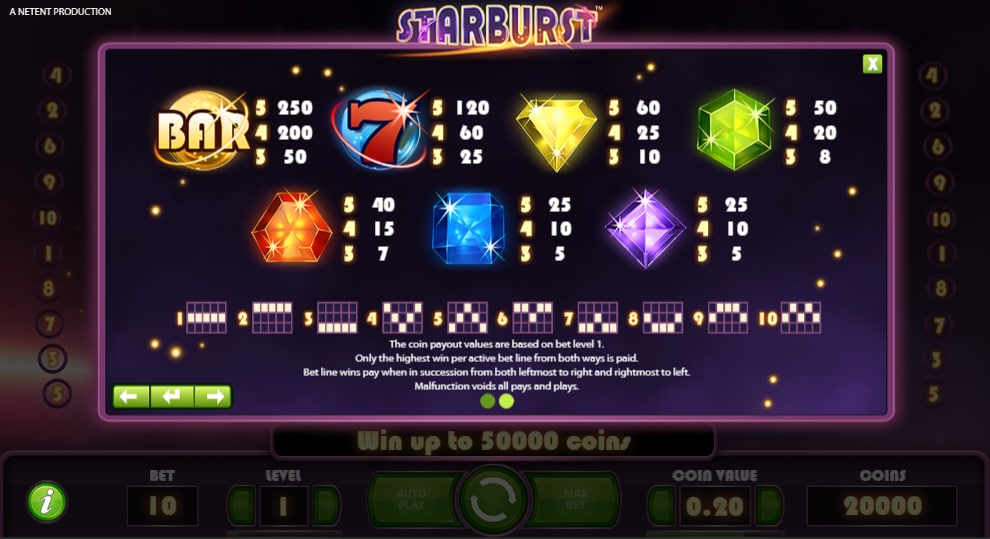 Starburst has no scatter symbols or multipliers, but the Starburst Wilds feature more than makes up for that – the biggest possible win with this bonus feature is an astronomical 50,000 coins! 
Starburst's Return to Player (RTP) is 96.09%.
Overall Opinions: Who Should Play the Starburst Slot?
If there was ever a Slot that could appeal to every single Casino player, that Slot is undoubtedly Starburst. 
The graphics are truly impressive, the music is never boring and additional features like Starburst Wilds are the icing on a delicious cake that Slots players have been chowing down on since it first appeared on the market. 
Beginners like Starburst because it's fresh, intuitive and, easy to play. More experienced Slots players keep coming back to play this game because they enjoy its simplicity and action-packed fun.